More than 1.5 million acres burned in the Sierra Nevada in 2021, a new record. It broke the previous record set in 2020.
Roughly 2,800 structures were damaged or destroyed in the Sierra Nevada, including most of the towns of Greenville and Grizzly Flats. In the southern Sierra Nevada, the Windy and KNP Complex fires took down structures, threatened communities, and killed thousands of giant sequoias. More than 3,500 giant sequoias in 27 different groves are feared lost. Combined with last year's destructive wildfires, an estimated 20 percent of these ancient, iconic trees are believed to have died.
Megafires, the new normal?
Many of these fires are examples of megafires—large, intense blazes that severely damage landscapes and the communities within them. Historically, these destructive fires have been quite rare in California and even more so in the Sierra Nevada.
Over the past few years, however, they have become all too common.
Since 1900, only six fires have burned more than 200,000 acres in the Sierra Nevada. All of those fires occurred in the past 10 years—and four of them in 2020 and 2021.
In 2021, the Dixie Fire became the largest single wildfire in state history, burning nearly 1 million acres. Last year, the Dixie and Caldor fires also became the first known wildfires to ignite on the western slopes of the Sierra Nevada and burn over the rocky, high-altitude crest, and down the eastern side.
Today's forests are primed to burn badly
These modern-day wildfires are not just burning further and faster; they are burning with more intensity and severity.
Historically, fire swept through most parts of the Sierra Nevada every 20 years or so and burned with a mixture of fire effects. In these fires, most of the landscape experienced low- and moderate-severity fire, which removed small trees and brush and left large trees with less competition to thrive. Patches of high-severity fire would have been scattered throughout the burn footprint, leaving small open areas critical for habitat diversity and forest resilience. This mixture is what many experts in the field refer to as "good fire."
However, in many parts of the Sierra Nevada it has been more than 100 years since fire has burned through. This has led to many small trees growing close together and a lot of dead, dry wood on or near the ground. When fires burn through this kind of forest structure, they burn hotter and more severely and create forests with uncharacteristically large landscapes of dead trees.
Hotter temperatures and drought linked to climate change are making matters worse.
High-severity destruction
The 2020 wildfire season saw multiple megafires burn at unprecedented proportions of high-severity. Unfortunately, 2021 was worse—over 575,000 acres of mixed-conifer forests in the Sierra Nevada burned at high severity.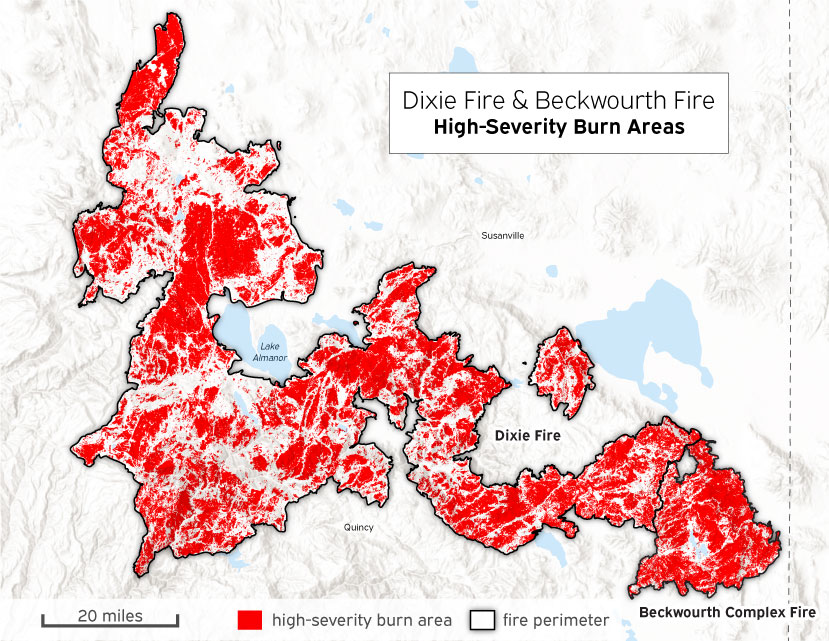 This past year's fires include four individual high-severity "patches" that, at more than 62 square miles each, are significantly larger than the city of San Francisco. The high-severity burn landscapes created by modern Sierra Nevada fires are unlike anything seen in the historical record and damage rich ecological systems, along with important natural resources like source watersheds and carbon stores.
During the 2021 fire season, the Sierra Nevada experienced more than 18 times the average amount of high-severity fire compared to when "good fire" regularly tended Sierra Nevada forests.
Fixing the Sierra Nevada wildfire crisis
While large and destructive wildfires are on the rise, there is some good news on the California horizon. Forest management projects that include fuel-reduction and prescribed fire, such as the good-fire project that protected the Caples watershed from the Caldor Fire, can not only provide ecological benefits, but have also proven to slow wildfires and greatly reduce the severity at which they burn.
California policymakers made an unprecedented $1.5 billion investment in Sierra Nevada wildfire resilience in 2021 that allowed the Sierra Nevada Conservancy to fund $19 million in early-action wildfire resilience projects and announce another $25 million wildfire recovery and forest resilience grant round that is accepting proposals until January 31, 2022.
Governor Newsom supports sustaining California's efforts. His January proposal for the fiscal year 2022–23 budget includes $1.2 billion for resilient forests and landscapes, post-fire reforestation and recovery, wildfire fuel breaks, community-protection measures, forest-based workforce and economic development, and more. Considering the vast Sierra Nevada region stores more than 50 percent of our state's forest carbon and provides water to over 75 percent of Californians—not to mention is home to hundreds of small-town communities that steward unparalleled recreation opportunities—these resources should help restore forests and protect homes and structures within the wildland-urban interface.
A proposed $100 million recovery fund could help the Sierra Nevada invest in post-fire recovery strategies following back-to-back years of wildfire devastation.
The goal is not to eliminate wildland fire, which is an important natural process in the Sierra Nevada, but to reverse the effects of generations of fire exclusion, and, over time, make the large, damaging blazes of the past few years once again a rarity in the Sierra Nevada.